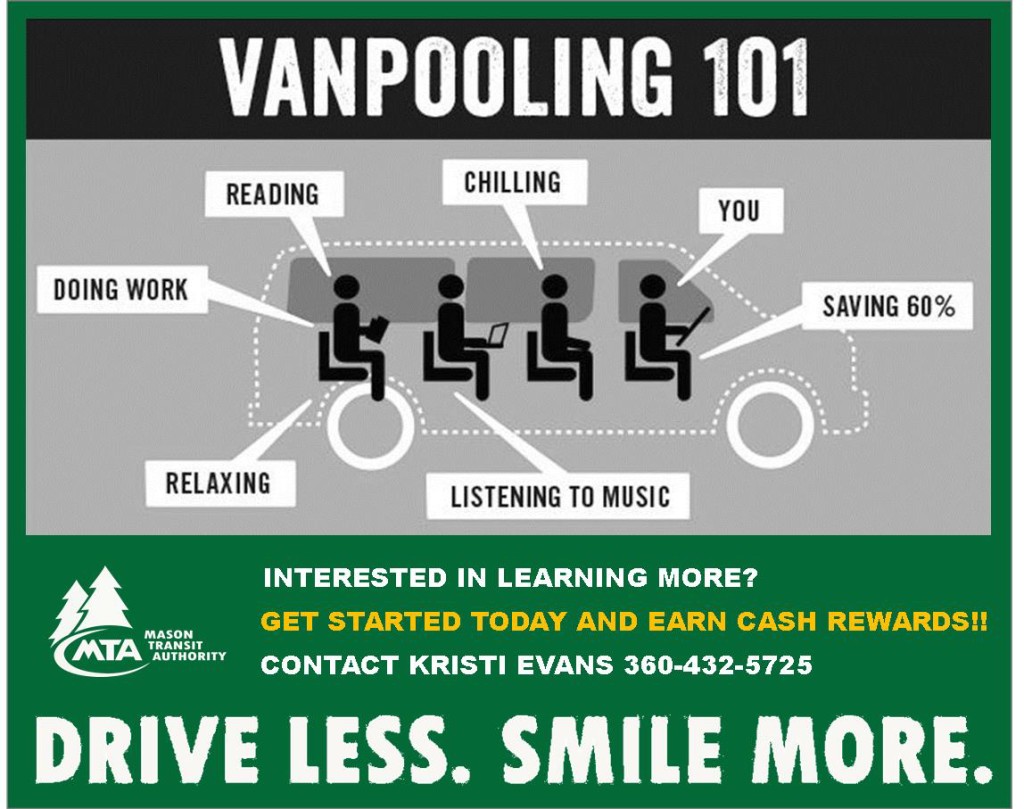 Do you want to be a smart commuter? Do you want to save money, reduce your stress, and create more free time for yourself? Who says no to that?!! By ridesharing and participating in our vanpool program you can be a smart commuter.
What is a Vanpool?
A vanpool is a group of five to twelve people who commute to work together in a van provided by Mason Transit Authority (MTA). Vanpools generally follow a set schedule and route, but unlike a bus, these are set by you and your fellow riders. Vanpools must begin or end in Mason County. Individual fares vary based on mileage, number of riders, and in some instances fare is paid for through employer commuter reduction programs. Vanpool fare covers all gas, maintenance, insurance, and vehicle washing costs.
You'll reduce the wear and tear on your personal vehicle.
We pay the insurance premiums and maintain the commuter van.
Your monthly fare could be less than a tank of gas!
We have a guaranteed ride home program! So don't worry about the boss asking you to stay late one day, we'll get you home even if you can't make your shared ride.
Make new friends, get to know your co-workers on your shared ride.
Relax while someone else drives.
Enjoy a view of something other than the bumper and taillights in front of you.
Travel in the HOV lane.
Reduce your carbon footprint.
Join Or Start A Vanpool Today

Contact us today, as we'd be happy to help you!
Kristi Evans, Coordinator
Call: 360-432-5725
Email: kevans@masontransit.org
Resources For Starting A Vanpool
Resources For Current Vanpools

Pay Your Vanpool Fare
To pay your fare online:
Find out the amount you owe from your vanpool bookkeeper.
Select the appropriate payment type (vanpool or worker/driver).
Enter your vanpool group number; for example, 29.
Enter cardholder information.
Enter your payment card information.
Agree to the terms and conditions and submit payment.
TIP Program
The Transportation Incentive Program (TIP) is managed by the Department of Navy and helps their employees reduce their daily contribution to traffic congestion and air pollution by expanding their commuting alternatives. The maximum monthly benefit amount of $130 is provided to TIP participants who commute to work by bus, ferry, or vanpool. For Department of Defense employees, that amount increases to $255 effective March 1, 2016.
TIP is designed to pay for mass transit costs incurred by personnel in their local commute from residence to permanent duty station. Participants must accurately claim an amount that reflects their actual commuting cost—failure to do so will result in fraudulent certification on the application and is subject to criminal prosecution. This program is a benefit, not an entitlement; thus, there is no retroactive reimbursement for the program.
All new participants must submit an application. Your Point of Contact (POC) at your work site can provide you with the appropriate application forms. All completed forms must be typed and should be submitted to your POC for processing.
One you are registered you will be issued a TRANServe Debit Card which will be automatically loaded with your approved fare rate.  Then you are able to use your debit card to pay your vanpool fare using our convenient online process below. For more information about the TRANServe Debit Card, and to be redirected to the U.S. Department of Transportation website, click here. For additional information about the TIP program contact your Employee Transportation Coordinator directly.